Santa Monica Seniors ride in search of Happy Spirits!
By Jason Islas
Staff Writer
October 30, 2013 — Translated from the Latin, Santa Monica's motto is "Happy people in a happy city."
But what about Santa Monica's less corporeal residents? Do the bayside city's calm pace of life and year-round sunshine make happy those locals who have, long ago, shed their mortal coils?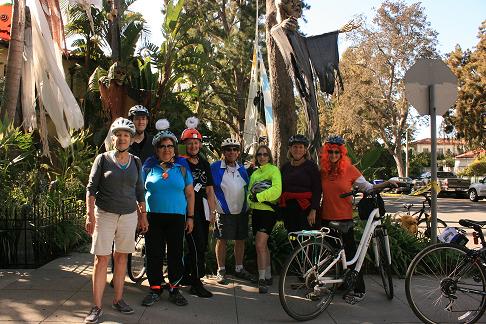 Santa Monica Bike Center's senior social ride. Photos by The Lookout
That was the question guiding the group of about 10 seniors who turned out Tuesday for the most recent installation of the Santa Monica Bike Center's senior social ride, a 6.5 mile bike tour designed to acquaint riders with the city's famous landmarks and their (former) occupants.
"It's about finding happy spirits in Santa Monica," Maralee Grantham, the tour's leader, told the crowd gathered outside a squat, brick building on 2nd Street in Downtown Santa Monica.
Located between Broadway and Santa Monica Boulevard, the small building looks like something out of an old western movie.
Built in 1875, it's the oldest brick building still standing in the bayside city and, as the former home of the Rapp Saloon, it was a logical first stop in the group's search for happy spirits. The building also served as Town Hall for about two years after Santa Monica first incorporated as a city in 1887.
Tuesday's group was a mix of newcomers and veterans who have been on nearly all of the senior social rides since they started last October. ("Santa Monica's Seniors Ride Again," October 3, 2013)
In that time, t he senior riders have found their way to the Annenberg Beach House and explored Santa Monica's prime dessert spots. ("Seniors Find Community at Santa Monica Bike Center," February 13)
Now, the group was stopped by the home of the late tennis star and Santa Monica native Gussie Moran, who Grantham called one of Santa Monica's "happy spirits."
In front of Moran's childhood home, a Victorian-style house built on Ocean Avenue in 1891, Grantham passed around a photo of Moran, who passed away earlier this year, wearing her famously short tennis skirt that scandalized Wimbeldon officials when she played the tournament in 1949.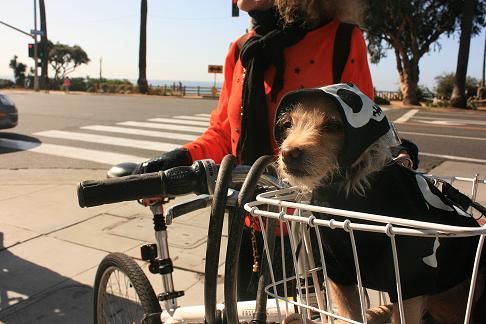 As the train of bikes continued along Ocean Avenue, riders got a glimpse of the Morton Bay Fig tree planted more than a century ago on the property of Nevada Senator — and Santa Monica founder — John Percival Jones.
Legend has it that an Australian sailor drinking at the Rapp Saloon got a bit too happy on spirits and was short on cash to pay his bill. The story goes that he paid his tab with a Morton Bay Fig sapling from his home country.
According to legend, the bartender passed the sapling on to Georgina Frances Sullivan, the Senator's wife, who had it planted in her yard where it grew to be the second largest of its kind in California.
The group wound its way up to Santa Monica's northern border, along Adelaide Drive to San Vincente, eventually stopping at a house whose owner used to entertain the likes of Charlie Chaplain, Greta Garbo — one of the Miramar Hotel's famous residents — and Betty Grable, Grantham said.
Designed by Santa Monica architect — and teacher at Santa Monica High School — John Byers in the 1920s, the house boasted a sizeable courtyard in imitation of Spanish colonial architecture, a style that Byers was fond of using in his designs.
Nearly a century ago, that now quiet courtyard would have likely been filled with the sounds of jazz music and stars mingling beneath the tree canopies.
On the way home, the group stopped by some of the houses along Georgina Avenue, ornately decorated for Halloween.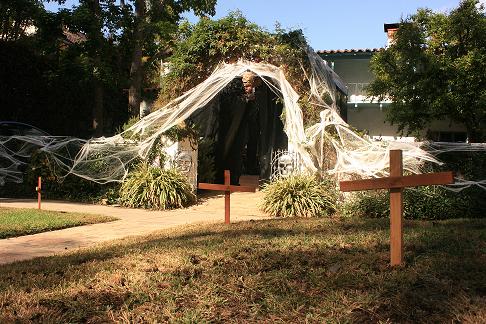 Houses were decked out with fake cobwebs, tombstones and ghouls in preparation for the streams of "happy spirits" that will come knocking at their doors in a few days looking for candy.
"We're very lucky to live in such a place," Grantham mused as she led the tour back onto Ocean Avenue. "It's such a happy place."
Where Georgina Avenue meets Palisades Park, there is an uninterrupted view of the azure Pacific.
The group didn't manage to find any actual spirits on the tour, so the question of whether or not they were happy went unanswered.
But, on the ride home, as the cool ocean breeze blew through the quiet streets and the warm sun hung high overhead, Santa Monica didn't seem like a half bad place to spend eternity. If you had to.